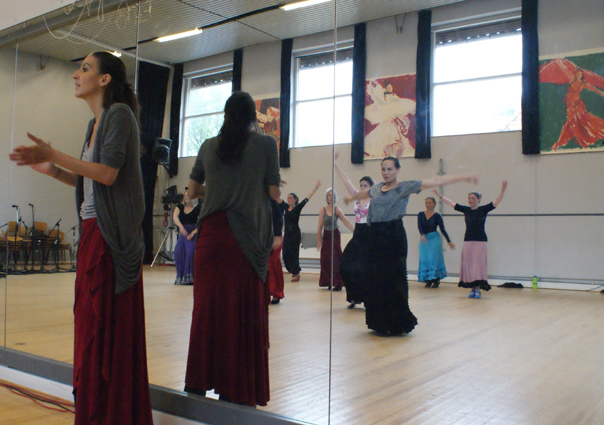 Facts on Sofia Castro
Born in 1983 in Sweden, Stockholm. Both her parents are from Uruguay. Sofia moved to Sevilla at the age of 22, where she lives now. She travelled a lot in Uruguay, Brasil, Cuba.
Which dance­stiles will we work with in the flamencoweek?
We will work with Fandangos in the group for beginners, and with advanced techniques for Alegrias in the group for advanced dansers. Fandangos, both the song and dance are very rythmical, exciting, fun to work with, and it is easy to understand the structure of the music. They asked me to do Alegrias for the advanced dancers, and here we will work on making the dance more intense and with demanding techniques. It will give the dansers a rich repertoire the can use with various guitarists and singers.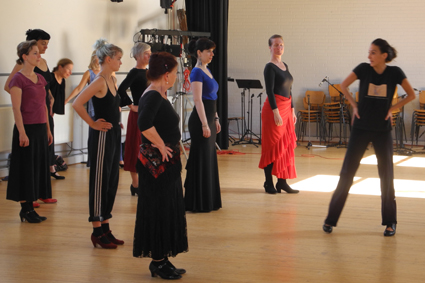 Where do you dance at the moment?
In a couple of tableaus in Sevilla: Alvarez Quintero (alvarezquintero.com), Peña Niño de La Alfalfa (http://pfninodelaalfalfa.blogspot.dk). Because of the big economic crisis in Spain, other tableaus where I performed had sadly to close down. Otherwise I am choreographing and dancing in some projects in Stockholm, with various Swedish artists, street dancers and rappers. I am teaching dance classes in Dansekompagniet in Stockholm as well, and everybody is welcome there on Wednesdays.
Why is it exciting for people to participate in the flamencoweek at Vestjyllands Højskole?
Well, flamenco expresses the feelings everybody has in life, and for me flamenco is the unique form to express myself. When you join the flamencoweek, you will come in contact with something that helps you to express yourself in an unique way. You get to know sides of yourself you might not know you have. This I cannot explain, you have to do it, to explore this. The great thing about flamencoweek is that we are together intensely, dancers, guitarists, singers, all the time and have fun, work hard and meet each other. A very personal experience for everybody, on all levels. To really experience and understand flamenco, it is very good with these 5 days break with the daily life, as a gift to yourself.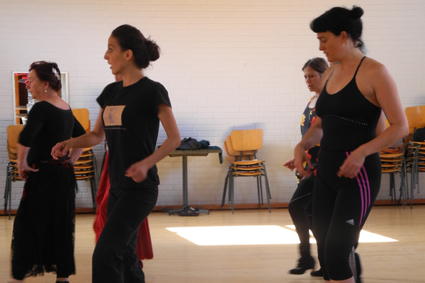 How does the dance, the guitarmusic and the song work together?
Flamencodance is 2 things. The dance is music in it self, because we make the percussion with the feet on the floor and the clapping of the hands, and it is dance because we speak through the body. Our body is our vehicle to speak so to say, to reveal our emotions. Our instrument to express, without the limitation of spoken language. Dance is the language of emotion everybody understands.
Who are you inspired by?
Well, I am not so much inspired by certain dancers, it is more life in it self that inspires me, the things I experience and the musicians I meet. And literature inspires me, I like to read.
What do you think about the future of flamenco?
Well, there is a kind of conflict between the traditional and pure flamenco and the modern variations. It is so important that we understand and keep in touch with the roots of flamenco in the Andalusian peoples soul, to understand where to we take the art of flamenco. Because it is art. And art is also very personal, and a reflection of our own life. And our life today happens in a globalized world. We cannot ignore that we meet influences from many many cultures, and we bring that back to how we express in flamenco.
How did your flamenco life start?
I saw the dancer Eva Yerbabuena in Cuba and I knew at once that that was the language I want to speak. I came home to my parents in Sweden, and I felt that my language could not come from the swedish culture. So I talked with my friend, and I said that I had to go to Andalusia and find out about this flamenco dance. And she said "yes, go and try!". I travelled to the town of Sevilla, in this very south part of Spain and found myself trapped in the flamenco world. One year of stay expanded to 9 years of study, learning and performing. "I just can ́t stop it" she says with a smile.
By Joost Alexander in coorporation with Bella Kragelund and Morten Terf Andersen, Copenhagen, Denmark, December 2014.Photo Joost Alexander.